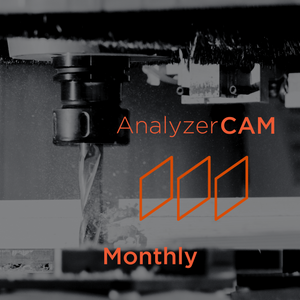 Analyzer CAM is a rectangular nesting optimiser developed to be used with Analyzer Manufacturing and AutoCAD
Parts are automatically optimised to suit any sheet size and are controlled via the user settings during the optimisation process.
Users also have manual control to edit the optimisation results and even move parts from sheet to sheet as the need arises.
This can be a useful tool when reusing off-cut material or material that may be partially damaged.

Analyzer CAM is built on industry standards for furniture manufacturing and is competitively priced, featuring all standard CAM functionality.

Some of its advanced features include
Easy to configure tooling parameters

Easy to create complex machining strategies

Full tool control including varying tool parameters based on material being cut

Grain Matching Parts

Grouping and Re Nest capabilities

On-demand Labeling

Ability to export drill head configuration to AutoCAD
HOW DO I GET ANALYZER CAM?
Pick a subscription: Month to month (new licence delivered every month)
12 Month - new activation code delivered every year on renewal (most convenient option) 
More users, more savings.
HOW MUCH DOES ANALYZER CAM COST?
Affordable monthly payments

1 user
 

$83.25

 

per month
4 users
$

224.78

 

per month - $56 per user
6 users
$

333.00 

per month   - $55 per user
30 DAYS FREE, CANCEL WHENEVER YOU LIKE
Use the voucher code FREEFAST30 at checkout for your free trial.
PLEASE NOTE: Analyzer CAM currently only works with Woodtron CNC out the box.
More CNC types coming soon, please contact us for more options
---